This product is available in our stores
You can buy this product without placing an online order at one of our stores in your area. Check where the product is in stock.
Check availability
Description
Features:
               This powerful defense spray with a generous capacity serves as a reliable guardian for your home and garden. It can be easily stored in your car's glove box or on your bedside table, providing secure protection at any moment. With a capacity of 150 ml, it is effective in any situation and can be operated with one hand, making it suitable even for security professionals. It comes equipped with a handy metal clip for quick access. Additionally, it features a special valve for long-range jet delivery, creating a spray pattern that reaches targets at greater distances.
               The protective cap is designed with a recessed trigger to prevent accidental discharge, and its unique shape safeguards the user against self-contamination.
               TW1000 CS defense sprays produce a powerful conical spray stream that disperses the irritant effectively, making it easier to hit moving targets. The cone-shaped spray pattern enhances accuracy and ensures complete irritation of the attacker's eyes and respiratory organs, minimizing the risk of missing the target due to imprecise aiming.
Specifications:
Conical spray stream;

Irritant: CS (o-chlorobenzalmalononitrile);

Capacity: 150 ml;

Spray pattern: Conical jet;

Range: 3 – 4 m;

Features: Protective cap, long-range jet valve, metal clip;

Dimensions: Height 175 mm, Diameter 45 mm;

Weight: 137 g;

Tested and approved;

BKA Certification Mark.
               TW1000 CS defense sprays for personal defense undergo testing by the German Institute of Aerobiology in compliance with the provisions of German Weapons Law. They are approved for sale without a license and bear the "BKA 1r2" BKA conformity mark.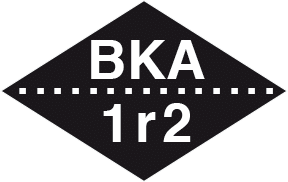 Warnings and precautionary statements according to Regulation (EC) No. 1272/2008 (GHS/CLP Regulation):
DANGER: Extremely flammable aerosol;

Causes serious eye and skin irritation;

May cause respiratory irritation;

Pressurized container: May burst if heated.

Keep away from heat, open flames, and smoking;

Do not spray on an open flame or other ignition source;

Do not pierce or burn the container, even after use;

Protect from sunlight and high temperatures;

Keep out of reach of children;

IF IN EYES: Rinse cautiously with water for several minutes; remove contact lenses, if present and easy to do, then continue rinsing;

IF ON SKIN: Wash with plenty of water and soap.
For sale in the EU only.